Southlake is a lovely suburban Texas city that is very family-friendly and considered one of the safest places to live in the country. To help protect homes and businesses in Southlake from the many pests that live throughout North Texas, Adams Exterminating Company offers a wide variety of pest control solutions. We are a trusted company and have been solving pest problems since 1947. To learn more about how our pest control services can protect your Southlake property and family from pests, contact Adams Exterminating Company today!
Residential Pest Control In Southlake, TX
For the most effective pest control in North Texas look no further than the professionals at Adams Exterminating Company. Our main goal is to protect families from the problems that pests create when invading homes such as structural damage, food contamination, as well as the spread of bacteria and diseases. We offer three different highly effective pest control plans.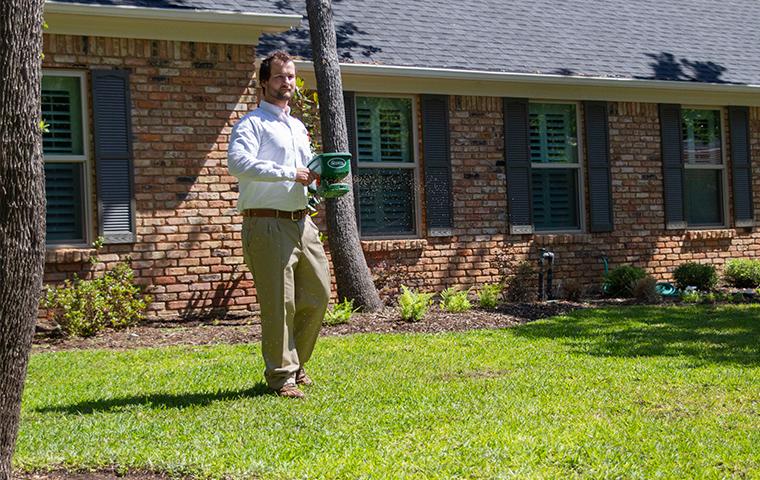 Perimeter Pest Control

Home Guardian Pest and Termite Control

Home Guardian + Pest and Termite Control + Mosquitoes
To learn more about our affordable and effective home pest control plans, give Adams Exterminating Company a call today.
Learn More About The Problems Mosquitoes Cause In Southlake, TX
The warm, humid weather found in Texas creates prime conditions for mosquitoes to breed and thrive. Mosquitoes can cause a variety of problems for homeowners, including:
The spread of serious diseases including West Nile virus, Zika virus, and encephalitis.

The transmission of parasitic heartworm to canines.

Ruining the time spent in your backyard with family and friends.

Painful, itchy, unsightly bites.
To help reduce the number of mosquitoes found living and breeding on your property, the team at Adams Exterminating Company offers a variety of effective mosquito control options - seasonal service, misting service, and our one-time event package. Give us a call for more information.
Commercial Pest Control Services In Southlake, TX
Trust Adams Exterminating Company to offer the comprehensive pest control services you need to keep pests away from your North Texas business. Our experts know how to identify pest problems accurately, discover their hiding spots, provide customized treatment, and work closely with you to prevent their return.
The reasons why putting a commercial pest control program into place is so vital to the success of your business include:
Pests can create costly structural damage.

They can cause fire and water damage.

Pests can introduce disease and bacteria.

They can cause loss of inventory and business.

Pests lower employee morale.

They can cause loss of licenses.
To learn more about how easy it is to implement a commercial pest control program into your Southlake business, reach out to us today!
Damage Termites Cause In Southlake, TX
A termite's primary source of food is cellulose, found in wood and other plant materials. When termites invade homes, they typically attack and feed on its structural wood, especially if it has water damage previously. Over time, as termites tunnel through a home's structural wood to feed their colony, they can cause enough damage to affect its structural integrity negatively. Common signs of termite damage include:
Drooping ceilings.

Sagging or squeaky floors.

Doors and windows that are twisted or warped.

Wallpaper and paint that is bubbling.
To protect your home from termites and the damage they cause, partner with the experts at Adams Exterminating. We offer our termite control service as either a stand-alone service or as part of one of our year-round home pest control plans. Give us a call today to schedule a termite inspection for your Southlake home.
Frequently Asked Questions