Located well outside of the Dallas-Fort Worth metroplex and near the city of Denton, Ponder can feel like no-man's-land in the busy state of Texas. But when pests strike your property, you don't have time to rely on pest control companies driving out from the bigger cities. You need it dealt with quickly and professionally. For that, you should turn to Adams Exterminating Company. We can eliminate pests and, more importantly, protect you from future infestations.
Residential Pest Control In Ponder, TX
Keeping pests out of your home is a real concern, especially in states like Texas, where the climate can stay warm enough for pests to remain active for most of the year. Because populations tend to form outside and then move their way in, this is a particularly important point. While certain housekeeping steps can help reduce your risk, the best residential pest control comes from experts who provide thorough inspections and effective treatments. At Adams Exterminating Company, we can protect your home with the following kinds of services: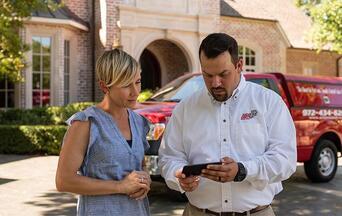 Perimeter: Starting at $30 a month, this service comes with six exterior treatments designed to create a shield around your home.

Home Guardian: Starting at $60, this has all the protection of our perimeter services with additional monitoring for destructive termites.

Home Guardian+: Our most comprehensive plan, this service that starts at $90 adds even more monitoring for termites and mosquitoes, plus a service warranty.
The best form of residential pest control is found at Adams Exterminating Company, so contact us today.
Commercial Pest Control Services In Ponder, TX
One thing that is easy to overlook when it comes to maintaining a thriving business is how much pest control is necessary. Sure, ensuring you make good products or provide excellent service may be your primary focus, but both of those things can be impacted by an infestation. Pests can form quickly without you realizing it, leading to property damage and even health concerns for your workforce and customer base. That's why commercial pest control services are worth the investment. While you focus on keeping your operations flowing, professional pest control companies can make sure your business is protected with these kinds of services:
Termite Control: Few pests are as destructive to property as termites. From structural to cosmetic damage, a termite problem can quickly turn costly.
Mosquito Control: Not only are they a nuisance for your employees and customer base, but mosquitoes can also carry diseases that they pass to people with just a single bite.
Recurring Treatments: In order to stay on top of pest threats, you need recurring treatments that ensure protection year-round.
For commercial pest control, you can trust in Ponder, contact Adams Exterminating Company today.
How To Limit Mosquito Exposure In Ponder
Mosquitoes and their bites can be more than just a nuisance. In fact, mosquito bites can carry dangerous viruses and bacteria that infect humans and animals alike -- diseases like dengue, West Nile virus, and malaria. That's why taking proper steps to limit your risk of mosquitoes in the first place is crucial for Ponder property owners. Here's how you can keep these biting pests out of our yard and prevent them from invading in the future.
Landscaping: Mosquitoes like yards with tall grass, overgrown plants, and plenty of places to rest and be close to where their hosts are most active. That's why proper yard maintenance is an important pest control step.
Warding Products: There are things like candles and sprays containing citronella or other warding agents that can provide temporary protection against mosquitoes.
Yard Treatments: However, the best form of mosquito protection comes from thorough and effective yard treatments applied by trained professionals. At Adams Exterminating Company, we specialize in methods that protect against many kinds of mosquitoes and other pests.
Keep mosquitoes off your Ponder property by turning to the services of Adams Exterminating Company today.
Simple & Effective Fly Control Tips For Ponder Homes
Anyone who's had flies in their home has had to consider how best to get rid of flies. They can thrive off the food and moisture found inside of our properties, and they reproduce quickly. The task of getting rid of flies gets harder the longer the problem goes undetected and unaddressed. Flies can also attract pests to your home, like spiders and other predators that hunt insects. That's why Ponder property owners must take these kinds of steps to avoid a fly infestation in their house:
Food Waste: Proper disposal of food waste is essential. Clean up crumbs and scraps after meals and make sure trash cans aren't accessible to pests.
Moisture Control: Flies are attracted to areas with high moisture, so proper ventilation, plumbing, and drainage are all key components to a pest-free home.
Treatments: In order to effectively prevent and eliminate flies, you need safe and professional pest treatments. For that, contact Adams Exterminating Company.
Frequently Asked Questions