Brief overview of ticks
Ticks are a type of external parasite that feed on the blood of mammals including wildlife, domestic animals, and people. Ticks are considered to be dangerous pests because of their ability to carry and transmit a wide variety of tick-borne diseases. In our area of North Texas, the two most common species that people come into contact with are lone star ticks and deer ticks.
What do ticks look like?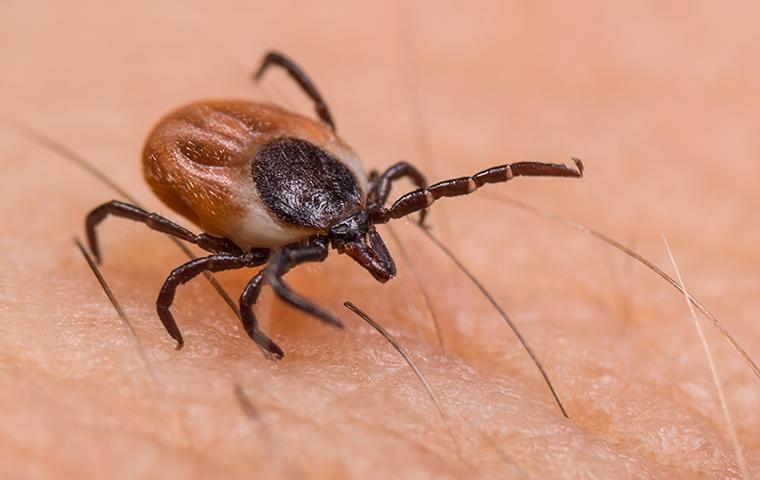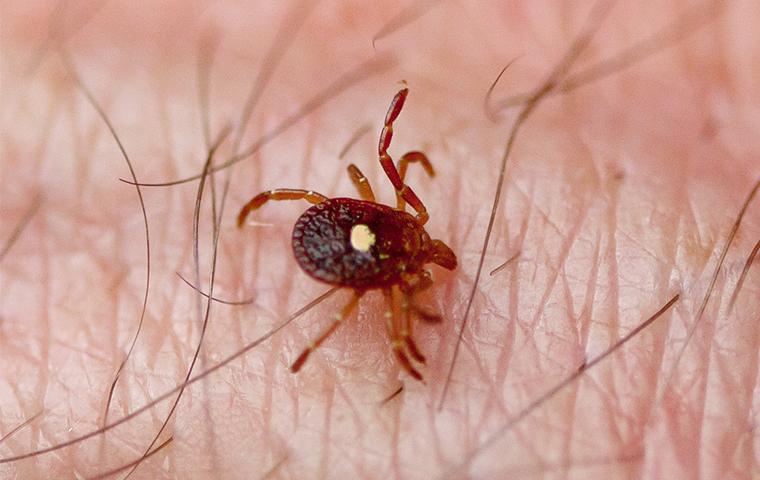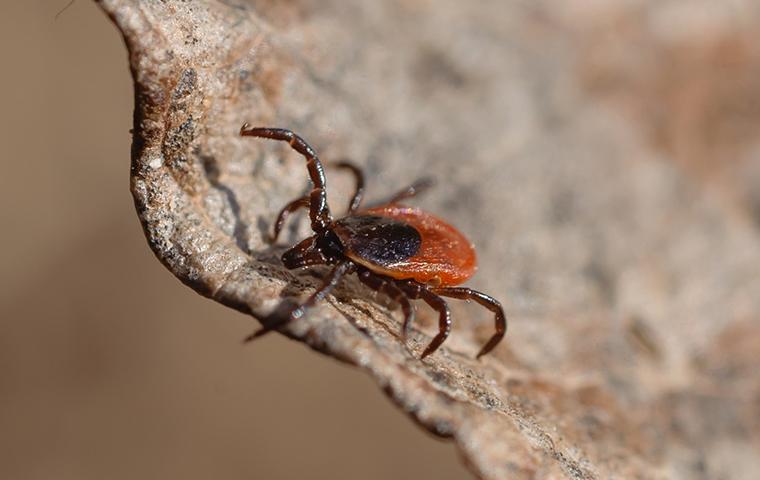 What a tick looks like will depend on its exact species:
Lone Star Tick - Adult lone star ticks are fairly easy to identify because of the distinct white spot located on their backs. Male lone star ticks have very noticeable white lines around the top edge of their body; females have the same markings, but they are not quite as noticeable. Before having a blood meal, these ticks are a reddish-brown color, but after feeding, they swell up and turn a slate gray color. Lone star ticks feed on a variety of mammals but prefer feeding on larger mammals like foxes, dogs, white-tailed deer, and unfortunately, people.
Deer Ticks - Deer ticks or blacklegged ticks as they are also commonly called are a dark rusty orange color and have dark, almost black colored legs. These ticks are very small, with adults only growing to be about ⅛ of an inch in length; however, they will increase in size after consuming a blood meal, making them easier to spot. As their name suggests, white-tailed deer are one of their preferred hosts. In addition to deer, these ticks feed on a wide variety of mammals including rodents, raccoons, foxes, humans, and birds. Deer ticks are responsible for spreading Lyme disease to both people and animals.
Where am I likely to see ticks?
Ticks prefer to live in dark, moist areas and are attracted to properties with areas of tall grass, thick vegetation, overgrown shrubs and bushes, and wooded areas. They are also commonly found living in the ditches found along roadways and in the vegetation that grows around ponds and lakes. Ticks are most often introduced onto properties by wild animals as they traveling through. Things like bird feeders, wild animal feeders, and unsecured trash cans all attract wild animals to your property and therefore increase the tick populations in your yard.
Are ticks dangerous?
Yes, ticks are considered to be very dangerous pests as they are responsible for spreading diseases that can make people and pets become very ill. Deer ticks transmit Lyme disease which is caused by the bacteria Borrelia burgdorferi in addition to babesiosis and anaplasmosis. Lone star ticks are also responsible for spreading diseases including tularemia and ehrlichiosis. Due to the many serious diseases that ticks can spread, great care should be taken to protect you, your children, and your pets from coming into contact with these parasitic pests.
How do I get rid of ticks?
At Adams Exterminating in North Texas, we can help you fight back against dangerous, disease-spreading ticks through our effective tick control options. Our professionals can provide the modern services needed to reduce the tick populations found on your North Texas property. For professional tick control in Denton, Lewisville or elsewhere in North Texas, contact Adams Exterminating!
Helpful Tick Articles
HOME GUARDIAN


Pest & Termite Control
If you have ants in the house, roaches under the dishwasher, or other pests trying to take up residence inside your home and among your family, you might consider our Home Guardian program. Designed to eliminate common house-infesting pests with exterior services every other month, this residential pest and termite program also includes termite monitoring to stop these wood-destroying insects from damaging your home and hurting your wallet.
Service Every Other Month
6 Exterior Services
Interior Service & Guarantee
Exterior Spider Web Removal
Exterior Wasp & Hornet Control


(Up to 15 feet off the ground)

Exterior Fire Ant Control

Sentricon® Termite Monitoring

Termite Service Warranty
Home in sq. ft
HOME GUARDIAN +
Pest & Termite Control + Mosquitoes
Adams Exterminating Company's most comprehensive home pest control solution, the Home Guardian+ includes all the same services as our Home Guardian (pest control and termite monitoring) program PLUS seasonal mosquito control! With this program, you don't have to worry about bugs, mice, and other pests taking over your home or mosquitoes driving you indoors while you try to enjoy your backyard!
Service Every Other Month
6 Exterior Services
Interior Service & Guarantee
Exterior Spider Web Removal
Exterior Wasp & Hornet Control


(Up to 15 feet off the ground)

Exterior Fire Ant Control

Sentricon® Termite Monitoring

Termite Service Warranty

Seasonal Mosquito Treatments




(March - October)
Home in sq. ft