Murphy is a suburban city located in Collin County, Texas. Murphy provides an environment that allows all of its residents to "live life at their own pace." In addition to safety, security, and a deep sense of community, another benefit to living in Murphy is having your property protected from pests by Adam Exterminating Company. Since 1947 we have been our area's most trusted pest control company, providing the best pest control services throughout the North Texas region. To learn more about our effective and modern residential and commercial pest control solutions, give Adams Exterminating Company a call today.
Residential Pest Control In Murphy, TX
Adams Exterminating Company's primary goal is to guard Texas homes and families against pests and the dangers and damage they can inflict. Our three, year-round, home pest control plans offer a variety of services to help meet all of our homeowner's unique pest control needs affordably.
Each of our programs provides service visits every other month, plus interior service and guarantee, exterior fire ant control, and more. A quick overview of each is listed below:
Perimeter plan - This plan offers exterior protection against common house infesting pests.

Home Guardian plan - This plan offers protection against typical house infesting pests in addition to our termite monitoring service.

Home Guardian+ plan - Our most comprehensive solution offers protection against common house infesting pests, plus our termite monitoring service, and seasonal mosquito control.
To begin partnering with Adams Exterminating Company and protecting your home and family from invasive Texas pests, contact us today!
3 Most Common Ants In Murphy, TX
The three most common ants you will find wandering around your Murphy property is the carpenter ant, the odorous house ant, and the fire ant. Each of these poses unique problems for homeowners.
The carpenter ant is a destructive species that has the potential to invade homes and nest inside of structural wood.

The odorous house ant is mostly a nuisance species that invade in large numbers, are difficult to eliminate, and give off a foul odor when crushed.

Fire ants are a dangerous species of ant. They deliver painful stings and have venom that is strong enough to trigger a severe allergic reaction. In addition, they can cause damage to electrical equipment.
Keep ants off your property and out of your home by putting into place a year-round home protection plan from Adams Exterminating Company. We have the skill and knowledge needed to get to the source of your ant problem, eliminate them, and keep them from returning. Reach out to us today to begin maintaining an ant-free household.
Commercial Pest Control In Murphy, TX
Protect your business's reputation from being damaged by pests by implementing a commercial pest control solution from the professionals at Adams Exterminating Company.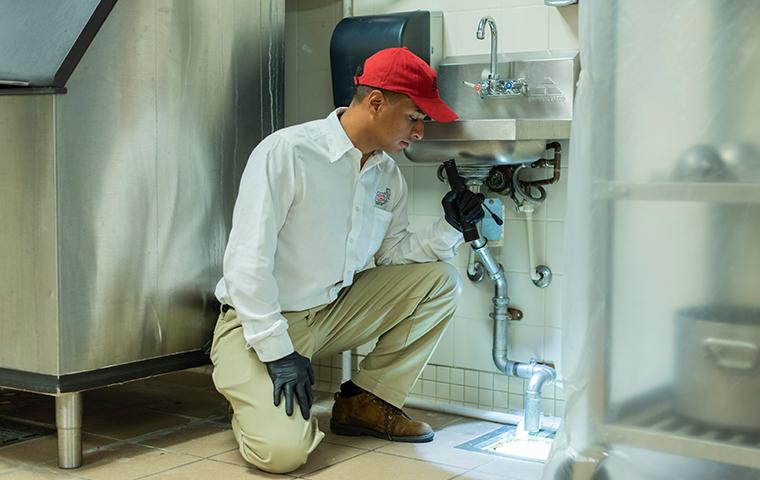 In addition to protecting your reputation, professional pest control provides the following benefits:
Protecting your facility's structural integrity

Stopping the spread of disease and bacteria

Preventing the contamination of food

Protecting equipment from being damaged

Helping you to pass health and safety inspections

Keeps customers returning
To guard your Murphy business against pests our commercial pest control solutions often include a thorough inspection, a customized treatment solution, and regular exterior treatments. To help keep you updated during the entire process, we provide our commercial customers with access to our Pestpac mobile service. Pestpac mobile allows you to see when our techs serviced your property, where they treated, and what products or materials they have used. To begin protecting your business from pests, contact Adams Exterminating Company today!
Murphy, TX Homeowners Guide To Avoiding Termites
Termites are destructive pests that live in large numbers throughout Texas. Wood-eating termites are not an easy pest to deal with, but by working with a professional, it is easy to protect your home from termites and their damage. In addition to partnering with Adams Exterminating Company, some things you can do around your property to avoid problems with termites include:
Remove fallen trees, tree limbs, tree stumps, and piles of organic debris that termites could feed on from your property.

Use wood mulch in minimal amounts near your house. Leave at least an 18-inch barrier between any mulch and your home's foundation.

Maintain gutters and make sure they are directing water away from your house.

Cut plant vegetation back away from the exterior of your home.

Fix leaky pipes and fixtures.

Use dehumidifiers to reduce moisture levels in your home. Additionally, make sure crawl spaces are adequately ventilated.
To learn more about avoiding wood-damaging termites and how we can eliminate them with the help of our highly effective termite control process, give Adams Exterminating Company a call today.
Frequently Asked Questions