Pest Control In Krugerville, TX
Known for its rolling hills and horse farms, the city of Krugerville is a rapidly growing rural community that offers plenty for its residents. However, such a charming rural setting is also appealing to various pests, making it necessary to invest in ongoing pest control.
Fortunately, our team at Adams Exterminating Company has been the go-to for Denton County pest control for more than four generations. We offer dependable, effective pest solutions that deliver the results you need without fail.
If you're ready for pest control done with honesty, integrity, and high standards for customer service, then call Adams Exterminating Company today to get started.
Residential Pest Control In Krugerville, TX
Pest infestations in your home cause stress, property damage, and other problems that require professional intervention to correct. That's why we're happy to step in and help as soon as you notice there's a problem.
At Adams Exterminating Company, our team knows what it takes to keep your home pest-free all year long so you can enjoy peace of mind. That's why we've developed several affordable home pest control programs designed with your needs in mind.
With our maintenance plan, you can trust in our ability to eliminate the pests of today while preventing them from returning in the future. Call Adams Exterminating Company today for the home pest control program that's right for your needs.
Commercial Pest Control Services In Krugerville, TX
When pests invade your business, you run the risk of negative reviews, upset staff, and food/product contamination. Our team finds that unacceptable, which is why we strive to provide the best commercial pest control plan, treatment, and service schedule possible.
We're prepared to assist you whether you operate a school, a shop, or even a warehouse. If you're ready to get back to what matters most, then leave the commercial pest control to our team at Adams Exterminating Company by contacting us today!
How To Spot Termite Problems In & Around Your Krugerville Home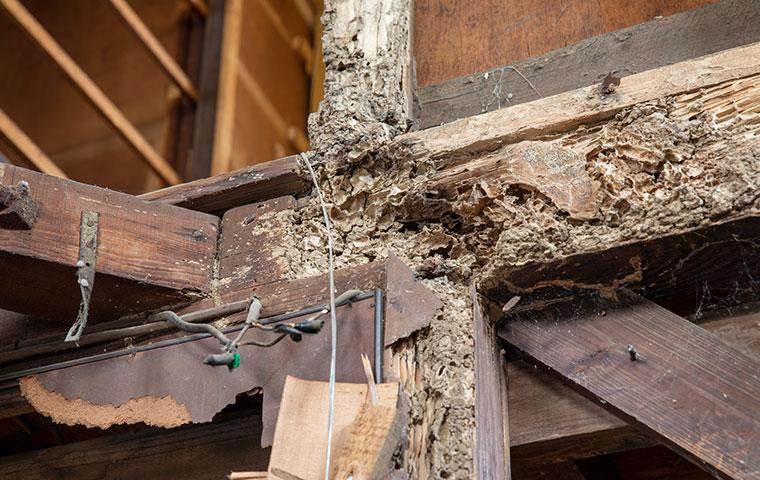 It's not a secret that termites cause significant property damage if left unchecked in your Krugerville home. However, did you know there are easy ways to spot termite problems before they grow too large? Some signs of termite infestations include:
Discolored/drooping drywall

Peeling paint (looks like water damage)

Hollow-sounding wood when tapped

Drywall has pinpoint-sized holes

Buckling wood or floorboards

Loosened tile

Termite sighting

Termite swarms
If you've noticed any of these signs, the best thing to do is to seek out termite treatments from our team at Adams Exterminating Company. We have the resources needed to eliminate your termite problems without fail.
Contact us today to get started on your termite treatments and take back control of your Krugerville home!
A Step-By-Step Spider Control Guide For Krugerville Homeowners
Spiders are creepy and inspire plenty of fear in most people that come across them thanks to their reputation for biting and their venom. Fortunately, we're here to provide you with a spider control guide you can use every time. Some ways to prevent spiders from making themselves at home are:
Inspect items like boxes and plants before bringing them inside

Check the foundation and seal any cracks or openings

Keep windows and doors caulked

Maintain door and window screens

Practice good landscaping
The best spider control possible is with professional assistance. Our team is standing by to assist you with your spider problems along with any other pests that are on the property. Contact us today to get started on controlling the spiders in your Krugerville home!
Frequently Asked Questions