At Adams Exterminating Company we don't just "control" pests we completely eliminate them, giving you peace of mind knowing that your Grapevine residential or commercial property is completely free of nuisance and/or damaging pests. At Adams Exterminating Company we understand Texas pests, and how to protect people and property from them. We take pride in caring for our customers, by providing them with the services needed to maintain a pest-free environment in an eco-friendly manner. Adams Exterminating Company provides a wide variety of affordable pest control programs so that you will never again have to deal with pests invading your Grapevine home or business. To learn more about implementing any of our comprehensive pest control services in your Grapevine home or business, contact us today at Adams Exterminating Company!
Residential Pest Control In Grapevine, TX
Adams Exterminating Company offers three different residential pest control programs to protect Grapevine homes from damaging, annoying, and invasive household pests. Each program is unique and each is able to meet the needs and budget of any Grapevine homeowner. Our Perimeter Pest Control is our most affordable program and offers service visits performed by our highly trained professionals every other month, 6 exterior services, interior service & guarantee, exterior spider removal, exterior wasp & hornet control, and exterior ant control. If you are looking for even more pest protection for your home, we suggest our Home Guardian program. This program offers the same services found in the Perimeter program, but with the added benefits of Sentricon® System with Always Active™ termite monitoring and our termite service warranty. Finally, our most inclusive program is our Home Guardian + program. It includes everything in the Home Guardian program, but also has seasonal mosquito treatments. To begin protecting your Grapevine home from pests, request your free no-obligation estimate today!
Guide To Fire Ants In Grapevine, TX
Adams Exterminating Company's list of fast facts about dangerous and invasive red imported fire ants:
They are a reddish-brown color, and adults vary in size from 1/8 to 1/4 of an inch in length.

Red imported fire ants like to nest along the edges of sidewalks and driveways. They may also establish nesting mounds under slabs and in the soil near foundations.

These ants are highly aggressive and will attack any person or animal that they view as a threat to themselves or their colony.

Red imported fire ants both bite and sting their victims. When attacking they use their mandibles to pinch and grab hold of the skin of their victim, then sting by using a stinger found on their abdomen, to inject a venom.

Fire ant stings are very painful and itchy. Some people can have severe allergic reactions, which sometimes require medical attention.

An attack could involve a few ants or hundreds of ants.
If you are having issues with fire ants on your property don't delay in asking for help. Contact the professionals at Adams Exterminating Company immediately. We can protect your property and family from fire ants using our home pest control programs. Don't live another day in fear of your own backyard! Partner with Adams Exterminating Company to get rid of these dangerous invasive pests from your Grapevine property.
Commercial Pest Control In Grapevine, TX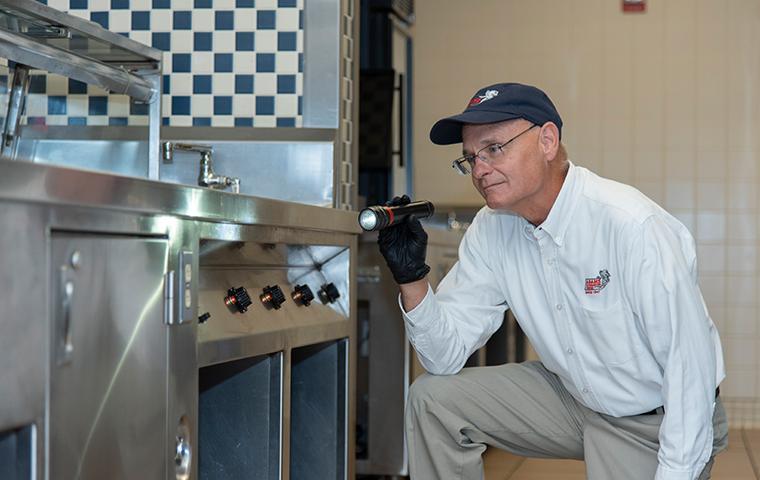 Protect your Grapevine business, large or small, from being damaged by Texas pests by putting into place a commercial pest control program from the commercial pest control professionals at Adams Exterminating Company. Adams Exterminating Company provides the targeted services needed to eliminate current pests, and helps to prevent future infestations with our easy-to-follow-and-manage pest solutions. To start controlling pests, one of our professionals will come to your facility where they will complete a thorough inspection; then, armed with a greater knowledge of your facility, they will create a customized-treatment solution, which meets the specific needs and requirements of your Grapevine business. To learn more about our customizable commercial pest control solutions, which will protect your business and its reputation from pests, get in touch with us today.
Protect Your Grapevine, TX Property From Termite Damage
Defend your Grapevine, TX property from the expensive and extensive damage that termites can cause with the comprehensive termite control services at Adams Exterminating Company. Termites eat wood, fiberboard, and paper. This means roof rafters, walls, foundations, eaves, crawlspaces, and more can be damaged by termites that have decided to invade your home. To both eliminate termites from your Grapevine property and, protect your property from future termite invasions, we highly recommend installing Sentricon® with Always Active™, the #1 brand in termite protection. Sentricon® with Always Active™ is extremely effective. It works to eliminate every member of the colony, all while being extremely environmentally friendly as it uses only a few grams of the active ingredient and no chemicals are ever introduced into the soil or groundwater.
Our termite control process includes a thorough inspection of the exterior of your home and, if necessary, an interior inspection. After the inspection is completed, we will create a customized termite treatment plan to meet the unique needs of your structure. If there is an active infestation, we will treat the areas of infestation in addition to installing Sentricon® with Always Active™ onto your property. Give us a call to learn more about protecting your Grapevine home and property from damaging termites.
Frequently Asked Questions