Effective Termite Control Services
If you're looking for a pest control company that you can count on, then look no further. Contact Adams today for more information about our termite control programs!
GET RID OF TERMITES FAST!
Home is where the heart is, and keeping it safe from destructive pests like termites is our mission here at Adams Exterminating. Each year, billions of dollars of property damage are attributed to termites. Fortunately, Adams Exterminating knows the best way to get rid of termites. Our perfected termite control process includes a thorough termite inspection to start, followed by a plan of action that will involve a termite treatment plan customized for your unique situation. The termite stations Adams uses are rated the #1 brand in termite protection! At Adams Exterminating, we offer termite coverage in two of our home pest control programs. Learn more below!
Termites Are Only Found In Old Buildings, Right?

Actually, termites have been found present in buildings as early as four days after construction. Every building fabricated wholly or partly of wood is susceptible. Chemical or mechanical barriers can be established in the construction stage to prevent or discourage termite infestations in new homes. For more information on our termite control services, contact us today!
How Much Damage Do Termites Really Cause?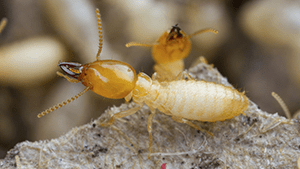 Termites eat constantly; 24 hours a day, 7 days a week. This means damage to wood in and around a structure can happen extremely fast. In fact, it is estimated that termites cause $5 billion in property damage each year in the U.S. This is why it is so important to get rid of termites as soon as possible. It's also beneficial to have a termite inspection performed for your home. It's too valuable not to. If termites are found in or around your home, our termite exterminators will recommend the best plan of action to get rid of them.
Why Choose Adams Exterminating?
Adams is a locally owned and family operated pest control company whose commitment to providing the highest quality pest services has been an ongoing tradition since 1947. This is why we train our technicians extensively in using the latest, industry-proven techniques, which will in turn mean faster, better solutions to your pest problem. Whether your pest problem is big or small, Adams Exterminating can help. Call today for more information about our pest control services!