Colleyville, a beautiful Texas community, offers the benefits of rural living but with easy access to big-city amenities. Another benefit to living in Colleyville is that you can protect your home or business from invasive, Texas pests with the help of Adams Exterminating Company! If you are looking for the area's most experienced and knowledgeable pest control experts, look no further. Since 1947, Texas residents have trusted us to provide pest control services to keep pests out of homes and businesses throughout the entire year. To learn more about our pest control services, get in touch with Adams Exterminating Company today!
Residential Pest Control In Colleyville, TX
At Adams Exterminating, we understand how beneficial putting into place a year-round pest control solution can be for any homeowner. Professional pest control guards homes and families from the damage, danger, and stress that invasive pests can cause. Our three home pest control plans ensure that homeowners receive the exact services needed to meet their pest control requirements and budget. A quick overview of our programs has been provided below: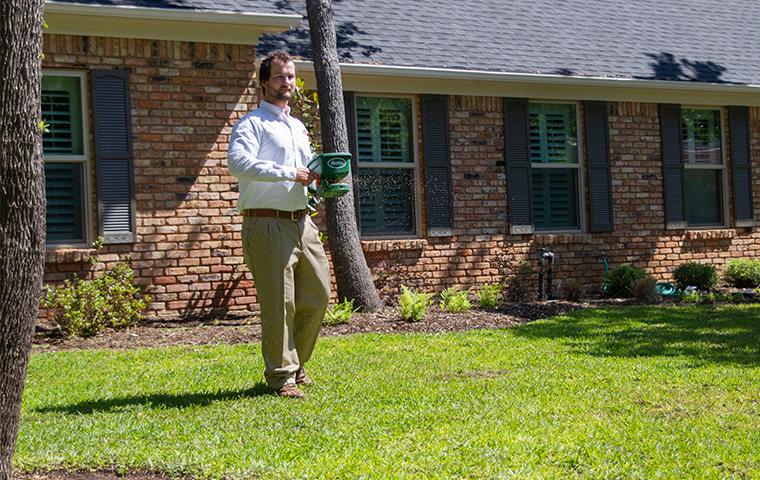 Perimeter: This program focuses on the exterior of your home and offers exception pest control.

Home Guardian: This program offers pest and termite control. It has been designed to eliminate common house-infesting pests through exterior services every other month.

Home Guardian+: This program is our most comprehensive. It includes all the services as our Home Guardian program, with the added benefit of seasonal mosquito control.
To learn more about our effective home pest control plans, give Adams Exterminating Company a call today.
3 Most Common Ants Found In Colleyville, TX
The three most common species of ants found in Colleyville are the carpenter ant, odorous house ant, and fire ant. Each species of ant brings its own set of challenges.
Carpenter ants: These large black ants find their way into homes while foraging for food. Once inside, they often decide to create a satellite nest close to their new food source. They create tunnels and nesting sites within a home's structural wood. If not eliminated from your home and property, these ants can, over time, create serious structural damage.

Odorous house ants: These small ants are dark brown to black in color. They are considered nuisance pests, but as their name suggests give off a very unpleasant odor when crushed. The odor they produce can take over your space and they can become a huge nuisance and also contaminate food sources.

Fire ants: These tiny reddish-brown ants pack quite the punch. Fire ants are an aggressive species of ant. They are quick to defend themselves and their colony from any perceived threat. Fire ants typically attack in a group, and their bites and stings are very painful. Some people, especially in the case of a large attack, may have an allergic reaction to their venom and require medical attention.
To protect your home and family from ants, whether they are dangerous, destructive, or just annoying, turn to Adams Exterminating Company. We can provide the year-round service needed to eliminate a current infestation and prevent re-infestation. To learn more about our ant control services, contact us today!
Commercial Pest Control In Colleyville, TX
One of the easiest things you can do to protect your Colleyville business's reputation from being damaged by pests is to implement a commercial pest control solution from the professionals at Adams Exterminating Company. Our commercial pest control solutions often include:
A thorough inspection of your facility.

A customized treatment solution that is specific to both your business and industry.

Regular exterior treatments to keep pests out and away from your customers, inventory, and employees.
To help keep you updated during the process, we utilize Pestpac mobile service. Pestpac mobile allows you to see when our techs serviced your property, where they treated, and what products or materials they have used. Contact us today to learn more about protecting your Colleyville business from reputation-damaging pests with the help of Adams Exterminating Company!
Why You Need To Protect Your Colleyville, TX Property From Termites
There are many reasons why you need to protect your Colleyville property from termites.
Termites cost United States home and business owners over $5 billion dollars each year.

Termite damage is not something that is covered by most homeowners' insurance.

Termites enter homes "silently" through the ground or through soil-to-wood contact. Their presence can go undetected for months or even years.

The damage they can cause to structural wood can become very extensive and time consuming to repair.
To protect your Texas home from destructive termites, partner with Adams Exterminating Company. Our termite control process is highly effective and works to completely eliminate entire termite colonies—and prevent their return. To learn more about guarding your home against termites, contact Adams Exterminating today!
Frequently Asked Questions