Colleyville, a beautiful Texas community, offers the benefits of rural living but with easy access to big-city amenities. Another benefit to living in Colleyville is that you can protect your home or business from invasive, Texas pests with the help of Adams Exterminating Company! If you are looking for the area's most experienced and knowledgeable pest control experts, look no further. Since 1947, Texas residents have trusted us to provide pest control services to keep pests out of homes and businesses throughout the entire year. To learn more about our pest control services, get in touch with Adams Exterminating Company today!
Residential Pest Control In Colleyville, TX
At Adams Exterminating, we understand how beneficial putting into place a year-round pest control solution can be for any homeowner. Professional pest control guards homes and families from the damage, danger, and stress that invasive pests can cause. Our three home pest control plans ensure that homeowners receive the exact services needed to meet their pest control requirements and budget. A quick overview of our programs has been provided below: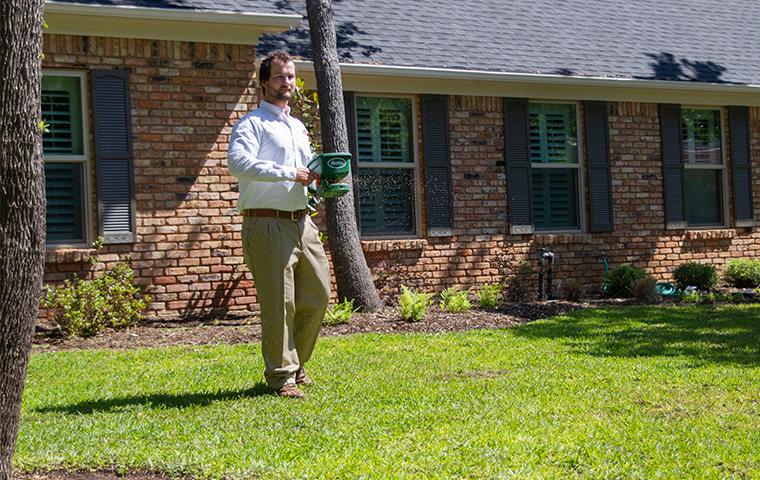 Perimeter: This program focuses on the exterior of your home and offers exception pest control.

Home Guardian: This program offers pest and termite control. It has been designed to eliminate common house-infesting pests through exterior services every other month.

Home Guardian+: This program is our most comprehensive. It includes all the services as our Home Guardian program, with the added benefit of seasonal mosquito control.
To learn more about our effective home pest control plans, give Adams Exterminating Company a call today.
3 Most Common Ants Found In Colleyville, TX
The three most common species of ants found in Colleyville are the carpenter ant, odorous house ant, and fire ant. Each species of ant brings its own set of challenges.
Carpenter ants: These large black ants find their way into homes while foraging for food. Once inside, they often decide to create a satellite nest close to their new food source. They create tunnels and nesting sites within a home's structural wood. If not eliminated from your home and property, these ants can, over time, create serious structural damage.

Odorous house ants: These small ants are dark brown to black in color. They are considered nuisance pests, but as their name suggests give off a very unpleasant odor when crushed. The odor they produce can take over your space and they can become a huge nuisance and also contaminate food sources.

Fire ants: These tiny reddish-brown ants pack quite the punch. Fire ants are an aggressive species of ant. They are quick to defend themselves and their colony from any perceived threat. Fire ants typically attack in a group, and their bites and stings are very painful. Some people, especially in the case of a large attack, may have an allergic reaction to their venom and require medical attention.
To protect your home and family from ants, whether they are dangerous, destructive, or just annoying, turn to Adams Exterminating Company. We can provide the year-round service needed to eliminate a current infestation and prevent re-infestation. To learn more about our ant control services, contact us today!
Commercial Pest Control In Colleyville, TX
One of the easiest things you can do to protect your Colleyville business's reputation from being damaged by pests is to implement a commercial pest control solution from the professionals at Adams Exterminating Company. Our commercial pest control solutions often include:
A thorough inspection of your facility.

A customized treatment solution that is specific to both your business and industry.

Regular exterior treatments to keep pests out and away from your customers, inventory, and employees.
To help keep you updated during the process, we utilize Pestpac mobile service. Pestpac mobile allows you to see when our techs serviced your property, where they treated, and what products or materials they have used. Contact us today to learn more about protecting your Colleyville business from reputation-damaging pests with the help of Adams Exterminating Company!
Why You Need To Protect Your Colleyville, TX Property From Termites
There are many reasons why you need to protect your Colleyville property from termites.
Termites cost United States home and business owners over $5 billion dollars each year.

Termite damage is not something that is covered by most homeowners' insurance.

Termites enter homes "silently" through the ground or through soil-to-wood contact. Their presence can go undetected for months or even years.

The damage they can cause to structural wood can become very extensive and time consuming to repair.
To protect your Texas home from destructive termites, partner with Adams Exterminating Company. Our termite control process is highly effective and works to completely eliminate entire termite colonies—and prevent their return. To learn more about guarding your home against termites, contact Adams Exterminating today!
Are Fleas Dangerous To Colleyville Residents?
Fleas may seem relatively harmless because of their small size; however, these pests can actually be extremely damaging to Colleyville residents and their pets. Many people are actually surprised to find that they have a flea infestation because fleas can jump from neighbor to neighbor, get brought in by furtive rodents, and lay their eggs inside carpets and pet beds, all of which make them nearly impossible to detect.
Once fleas do begin to do their work, they will bite humans, which leads to scratching, which in turn, can cause serious skin irritations. Fleas in Colleyville can also spread murine typhus to people, as well as plague. The members of the family that fleas are most dangerous for are Fluffy and Fido, as they are a flea's main target. Fleas will feed off of pets until they cause severe blood loss and leave behind itchy bites. Additionally, during the feeding process, fleas can pass along the pathogens that cause tapeworms, murine typhus, and cat scratch disease. Because the average female flea lays 2,000 eggs in her lifetime, these infestations and the dangers they bring can quickly grow out of control. For more information on flea control, call Adams Exterminating Company today.
What Everyone In Colleyville Should Know About Mosquitoes
Mosquitoes are a common pest problem in Colleyville. Here are a few things that everyone in the area ought to know about them:
Mosquitoes are seasonal pests that appear every spring and last throughout the fall. This means that people will encounter them year after year without fail.

The mosquitoes that bite people are female, because they require human blood in order to reproduce.

While mosquitoes are largely a nuisance, they also have the potential to spread West Nile virus and a variety of types of encephalitis. It's impossible to know simply by looking at a mosquito whether or not they're carrying these pathogens.

There are certain factors that make people attractive to mosquitoes, which include alcohol consumption, body sweat, scented hygiene products, and dark-colored clothing. That said, blood type and genetics are largely responsible for overall attraction.

Mosquitoes are more active during the hours of dusk and dawn, but they may appear during outdoor gatherings when there's an abundance of people.

There are factors that properties possess, which may increase mosquito attraction. Those include shady hiding areas, pockets of standing water, and lots of yard clutter.
For more information on mosquito control in Colleyville call Adams Exterminating Company today.
Why It Is So Dangerous To Have Rodents In Your Colleyville Home
If you've ever second guessed whether or not having a rodent problem in your Colleyville home is an issue, the answer is simple. Having the presence of any mice, rats, or squirrels can be potentially very harmful for a variety of reasons.

To start, rodents are known for the property damage that they can cause, which comes as a result of their need to chew on things to keep their front teeth from overgrowing. This can easily result in finding holes in your walls and insulation that's been ruined. The implications of these scenarios are exposure to future pest problems and increasing energy costs. Rodents can also damage your furniture and clothing if they are looking for something to nibble on or if they need materials for their nests.

Having rodents around can also cause the spread of parasites like mites, ticks, and fleas, which can be detrimental to the well-being of you and your pets. And rodents themselves are associated with health issues like rat bite fever, hantavirus, salmonellosis, and tularemia. Rodents in Colleyville usually leave behind feces, urine, and saliva that are the cause of these issues; however, rats are usually more assertive and may scratch or bite people. For complete rodent protection, call Adams Exterminating Company today.
A Helpful Guide To Scorpion Prevention For Colleyville Property Owner
Colleyville residents may see scorpions on their properties from time to time for a variety of reasons, and whether or not these scorpions are venomous, they should be prevented at all costs. Try these tips to keep scorpions away:
Fill in the gaps: To actually keep scorpions from entering a home or place of business, it's important to use materials like door sweeps and weatherstripping to make doors and windows more secure. It's equally as important to address crevices in foundations with silicone-based caulk.

Stay ahead of moisture: Scorpions can live for periods of time without food, but they can't live without water, so staying on top of water issues is key. Make sure that no external plumbing or pipe features are leaking and be sure to shut off hoses after using them. It'll also be crucial to drain out any pools of standing water.

Clean up the yard: These pests also look for dry and cool places to hide so sweep away hedge trimmings, leaves, and branches.

Bring in the pros: In order to effectively address the reasons behind scorpion attraction and to prevent them from coming back, there is no better solution than services from a trusted pest expert.
For more information on scorpion control in Colleyville, call Adams Exterminating Company today.
Frequently Asked Questions