To keep your Carrollton, Texas property free of the pests that live throughout North Texas, partner with the area's leading pest control experts, Adams Exterminating Company. Whether you own a home, a business, or both, you can be sure that our industry-leading services are what is needed to keep your property protected from pests like ants, termites, roaches, rodents, and other invaders that can cause you unneeded stress, destruction, and damages. Since 1947 North Texas residents have been trusting Adams Exterminating Company to provide them with affordable, environmentally sound pest control services. Get in touch with us today to learn more about any of our pest control programs or to request a free home estimate.
Residential Pest Control In Carrollton, TX
To control common household pests Adams Exterminating Company offers three different residential pest control programs. Each program is unique and each is able to meet the needs and budget of any Carrollton homeowner. Our Perimeter Pest Control is our most affordable program and offers:
Service visits performed by our highly trained professionals every other month

Interior service and guarantee

Exterior spider removal

Exterior wasp and hornet control

Exterior ant control
For a bit more of a comprehensive solution to pests we offer our Home Guardian program. This program offers the same services that are found in the Perimeter program but with the added benefits of the Sentricon® System with Always Active™, which provides unparalleled termite monitoring, as well as our termite service Warranty. And finally, our Home Guardian+ offers everything that is in the Home Guardian program, plus seasonal mosquito treatments, providing the most comprehensive pest control for your home and property. Learn today which program is the perfect fit for your Carrollton home by giving us a call and speaking with one of our highly trained professionals.
How To Avoid German Roaches In Carrollton, TX
German cockroaches are a smaller species of cockroach that are unfortunately found living throughout North Texas. They are fairly easy to identify with their light brown or tannish bodies and two black stripes that run horizontally down behind their heads. German roaches can become very problematic in both homes and business, especially restaurants. Keeping German cockroaches out of any Carrollton property is important because of the serious health risks that they can cause for people, including triggering asthma attacks in young children and introducing bacteria that can cause diarrhea, dysentery, and food poisoning. To help avoid German roaches from being attracted to your property and finding their way into your home we suggest the following prevention tips:
Make sure that all outdoor trash cans are tightly sealed to help prevent roaches from being attracted to your property

German roaches are attracted to moisture. Reduce areas of moisture on your property by making sure that gutters are working properly, trimming back bushes and shrubs away from your home, and fixing any leaky faucets or fixtures

Seal up gaps and cracks in the foundation and exterior walls of your home

Vacuum floors in your home on a regular basis, especially in areas where food is present

Wipe down counters, cabinets, and tables daily

Wash dishes on a daily basis, and do not leave dirty dishes in the sink overnight

Store food inside of the refrigerator or inside of plastic or glass containers with air-tight lids

Pick up any food that your pet does not eat
Commercial Pest Control Services In Carrollton, TX
Keep your Carrollton business free of pests like termites, roaches, pantry pests, and flies, all of which, when found living inside of your commercial property, become much more than a nuisance. Pests living inside of a commercial property can damage its structure, introduce bacteria and disease, and ruin products. Along with damaging "things," they can damage the reputation of your business, cause your customers to spend their hard-earned money somewhere else, and lower employee morale. Our commercial pest control services will cater to your Carrollton business' unique needs, and include: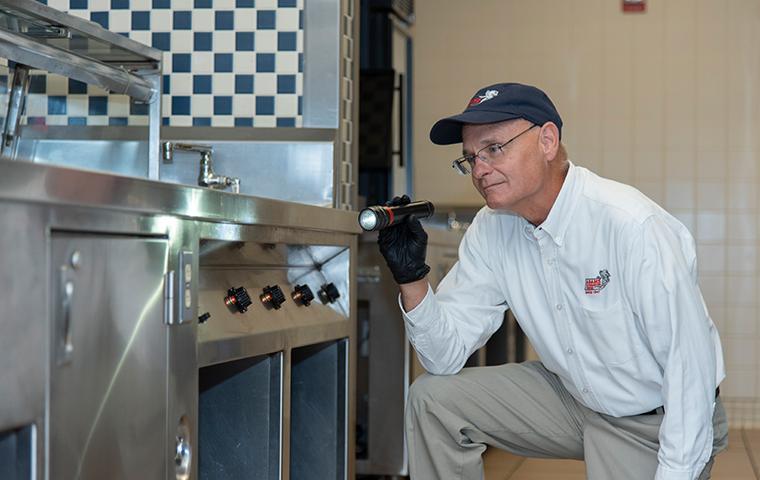 A thorough inspection of your facility

A custom treatment solution that meets the specific requirements of your company and industry

The scheduling of regular service visits to treat the exterior of your facility on a routine basis to stop pests from entering your facility in the future

Our PestPac mobile service which allows you to see when our pros have serviced your property, where they treated, and what products or materials they used
Give us a call to learn more about our commercial pest control services.
Learn How To Identify Termite Infestations In Carrollton, TX
If termites have invaded your Carrollton property it's likely that you won't notice their presence right away. In fact, it can sometimes take weeks, months, or in extreme cases years to notice an infestation. At the first signs of termite living on or near your property, you should immediately contact Adams Exterminating Company. This is because when signs of their presence are noticed, it usually means that some damage has already been done. Some common signs that property owners will notice in the event of a termite infestation include:
Mud tubes going up along your home's foundation or basement walls

Finding tiny "nail" sized holes in your home's walls or structural wood

Wood or walls inside of your home that sounds hollow when you tap on them

Hearing "rustling" noises behind your home's walls

Having windows or doors in your home that have become warped and suddenly don't open or close properly anymore
To learn how to protect your Carrollton home from termites with the help of the North Texas termite control experts at Adams Exterminating Company get in touch with us today.
Frequently Asked Questions