You might never have thought about a career in pest control services, but if you're looking for your next exciting opportunity or to enter a field with tons of possibilities for growth and development, your local pest control company can be a great place to start.
What A Career With Adams Exterminating Company Can Do For You
Adams Exterminating Company is one of the DFW area's premier pest control companies. We've been in the commercial and residential pest control business for over 75 years. In that time, we've built up a company with a stellar reputation and spotless record of customer service and satisfaction. We service most of the DFW area, with locations in Denton and Lewisville, meaning you have the option to choose the location that's right for you.
We don't just take care of our customers. Our reputation for honesty, integrity, and care extends to our employees too. Not only do we offer competitive compensation packages right out of the gate, we also provide health insurance and retirement benefits, and our service technicians have use of our company vehicles. So whether you work with us for a few years or your whole career, you can rest assured we'll take care of you.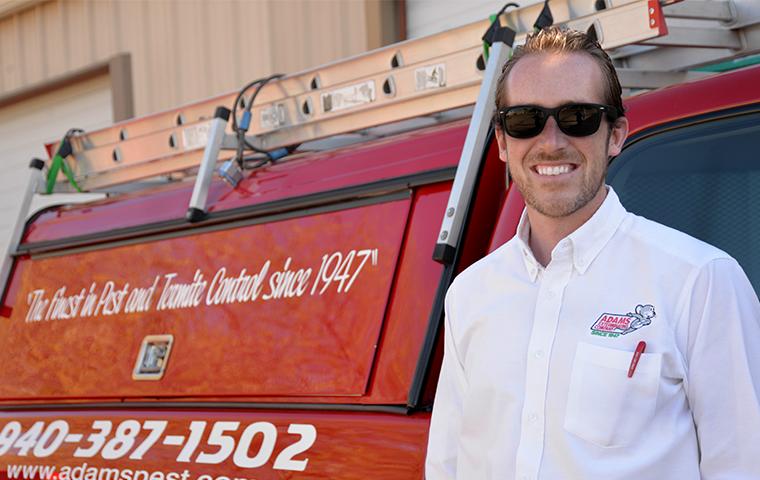 Why Choose A Career In Pest Control?
A career in commercial and home pest control offers lots of benefits, especially if sitting at a desk just isn't for you. Service technicians spend their days in the field, exploring new areas of North Texas, enjoying the sunshine, meeting new people, and working with their favorite customers.
Those who work with us also gain experience in a rapidly growing field that can weather recessions better than many others. After all, pests don't slow down just because the economy does. Even better, your experience with us is transferable all over the country. There aren't many corners of the U.S. that don't have a host of pest problems! That means a few years in the pest control industry can set you up to have a job almost anywhere you want.
Then, there are the direct benefits of working with us here at Adams Exterminating Company. Our compensation and benefits packages outcompete other pest control companies in the area. Plus, we're closed on weekends to ensure our techs have a better work-life balance. So you'll never be asking if you're getting the short end of the stick with us.
Qualifications To Work With Us
We don't ask you to come into your new job being an expert entomologist. We can offer the training and skill development necessary to ensure you succeed in your new career. All we ask our entry-level applicants to have is a clean driving record and the ability to pass a standard background screening.
We also ask that all our potential candidates – whether they're service techs, customer service representatives, or in another position – have a friendly and customer-centric attitude, an affinity for teamwork, internal motivation, and the ability to excel in a fast-paced environment. If this sounds like you, fill out our online application form at the bottom of this page to get started in your amazing new career.
A Bright New Future Is Just A Click Away
A career in home and commercial pest control services can offer lots of fantastic benefits. If you work with Adams Exterminating Company, you'll have many opportunities for advancement, competitive pay and benefits packages, and experience with one of the top pest control companies in North Texas. If you're ready to take your career and your life to the next level, fill out our online application form so that we can get in touch with you for the next steps. Don't wait one more day to jump-start your next chapter! Apply today.
Interested in working with us?
We would love to speak to you! Fill out the form below.


For Expedited Service Call (888) 612-6732