Differences Between Mosquito Control And DIY Solutions
February 15, 2018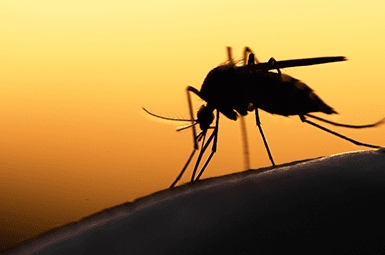 You know it won't be long before we start seeing more and more mosquitoes in Texas as we go from February into March. We quickly forget the many problems that mosquitoes cause, and often end up taking our guard down in that regard. Mosquitoes breed everywhere, and the female mosquitoes feed on human and animal blood to be able to acquire the protein needed to make and lay eggs. When the female mosquito punctures the skin she can easily transfer dangerous diseases, as well as producing red itchy welts. Mosquitoes can cause malaria, chikungunya, dog heartworm, dengue, yellow fever, equine encephalitis, West Nile virus, and Zika virus. Not only that, they gather in large numbers around people, being attracted to the carbon dioxide that we exhale, body heat, moisture, movement, and dark colors. Their presence is enough to drive everyone indoors during the long mosquito season unless you find an effective preventative method.
You can find a plethora of information about DIY mosquito control, and an entire market that focuses on just that. However, some things are best to be left to the professionals. Mosquito control is one of them. Sure, over-the-counter store purchased materials and chemicals are cheap, quickly administered, and can be done on your own time schedule. But, will it solve your mosquito problem?
As you know knowledge is power, and pest control professionals have the knowledge to quickly identify what is needed in order to take care of your mosquito problems, as well as the tools and skills to treat accordingly. They are also able to answer any questions that you might have. When it comes to DIY you will need to do your own research by going online, reading labels, and following directions exactly to ensure safety for yourself and your family, and even then there's no guarantee.
Besides knowledge, the benefits of professional mosquito control are numerous!
Professional services offer a guarantee because they have the products and methods that are sure to decrease the mosquito activity on your property.

Professionals use the most effective up-to-date products and methods.

Professionals help protect people and pets from mosquitoes and harsh chemicals alike.

Professional mosquito control is convenient. You don't have to worry about wasting your time battling mosquitoes.

Professional pest control is worth the expense. You won't waste your money over and over again with products that are ineffective, temporary, or dangerous.
So, when you factor in all of the drawbacks of DIY solutions: lack of effectiveness, time-consuming, dangerous, etc.. it's clear that professional mosquito control is the way to go.
If you are looking for mosquito control in North Texas, look no further than the professionals at Adams Exterminating Company. Take a look at our most comprehensive home pest control solution: Home Guardian Plus. It includes pest & both termite and mosquito control. This pretty much covers all bugs, mice, and other pests that may be taking over your home and yard. It consists of service every other month, six exterior services, interior service and guarantee, exterior spider web removal, exterior wasp and hornet control, exterior fire ant control, termite monitoring through the Sentricon® System with Always Active™, termite service warranty, and seasonal mosquito treatments (March-October), all for one convenient price. Give us a call today for more information.